Peter and Olive have three children who all attended school in Baralaba state school, then finished their education in Rockhampton. The eldest, Ken, joined the farm partnership with his parents when he left school. He is currently living in Sydney doing construction work. Daughter Barbara and her husband. Lyn, the youngest child joined the Farm Stay Partnership in 1993.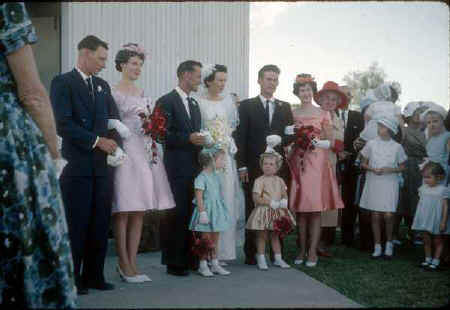 Peter and Olive's wedding in 1965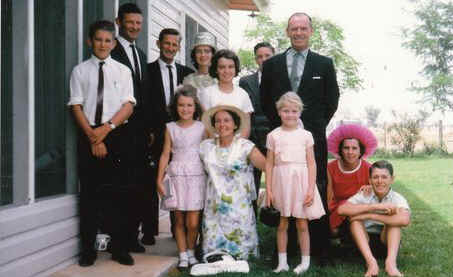 PETER EATHER - life as a nine year old
When I was nine years old the year was 1942.
Our school had just one teacher and there were nine children, 5 of us were from the same family. I rode 6km to school sitting behind my sister on a horse. The horse stood in a small paddock until school finished then we caught them again to go home. As we rode to school we talked about what we thought it would be like when the Japanese army took over Australia and we would wonder if we would be allowed to go to school or sent to prison camps. We had seen new Australian money made by the Japanese that our neighbour had brought home from New Guinea.
That year we had to dig an air raid shelter in the school grounds.
I was in Sydney to have my eyes tested and was on the Manly Ferry in the Sydney Harbour; a week later the Japanese submarines were in that same Harbour.
In this year we could write on paper with a pen that dipped in an ink well on the desk. Before that we had used a slate with chalk. A slate is a stone like a tile.
Our toilets were long drops (a big pit and a toilet on top). We had a bath (the last one in had the most water). The water was heated by a chip heater. The water came from a well and a windmill.
The clothes I wore were old and already used by my brothers because of rationing. My mother did the washing on Monday. The clothes were put in a boiler and boiled with soap then rinsed in a tub and onto the clothes line.
Peter's Eightieth Birthday Card.
OLIVE EATHER - life as a nine year old.
I started school with a governess. I rode my horse to school with two of my sisters and one of my brothers. During the day we left our horses on what is now the school sports oval. I liked riding to school because if there was a storm we use to get sent home earlier than the other kids.
We had a big long desk and a bench seat to sit on. There were no biros we had ink pens and I had a slate for the first year or two but I was probably was using paper when I was nine. I remember learning about cooking for six weeks; the classes were in a railway carriage.
I had closed in shoes they were called sand shoes in those days. We didn't have a canteen, I remember when I was five years old the ants got into my sandwiches and my teacher gave me some money to go and buy some food from the local cafe. The cafe ladies name was Mrs Richie.
We didn't have a uniform; they were introduced in my last couple of years of school. I finished school when I was 13 years old. The uniform was blue and it was a pinafore which is like a dress with a blouse underneath.
At my home we had a shower but it was outside and there was only cold water. So we only had showers in summer time. We had to have a bath if we wanted hot water.
We use to wash our cloths in a copper which was a tub of water with a fire under it.
Our toilet had a wooden seat with a tin under it. After we used the toilet we had to empty the tin down the paddock.
There was no electricity and we used lights and a fridge powered by kerosene. We killed our own cattle for meat we never had sausages and we only had steak for 2 days the rest of the meat was kept in a big tub of brine. Brine is a special mix of water and salt used to preserve meat.
We also had carbine light that use to make noises and we were frightened of it. My Grandad use to tell us that it was going to blow up.
Olive Eather (Nee Oram)
Olive's Father = LEWIS ORAM (Digger)

PETER EATHER'S FAMILY
Peter Eather was born 29 January 1933 in Singleton, NSW. Peter was the fourth of five children of Grace and Ivo Eather. The family grew up on a wheat/sheep farm in an isolated area and Peter attended a one-teacher school. Ivo was injured in France during WW1, at the Villers Bretonneeux on the Somme, 100km North of Paris. As a result, he spent years in hospital, then finally returned to his family at Bulga where his brothers were running farms. He married Grace Pankhurst in 1926 and they reared 5 children on a farm called Harparary in NSW. Ivo and his brother Arthur married sisters.
After leaving school Peter and his brothers joined a partnership and ran the property. In 1954 the brothers were looking for more land. They travelled North 1000km and bought a property 16km from Myella. Peter and brother Don worked the new farm in Qld, while brother Dick and Harry continued to run the wheat/sheep farm in N.S.W.
Eventually the Eather brothers bought a farm for each other, then they ended their partnership. The eldest, Dick, still owns the original farm in NSW and his son now runs it.
In 1964 Peter married Olive (nee Oram), a farmer's daughter from Baralaba. Olive was born 9 August 1943 in the Baralaba hospital. She was the sixth of eight children of Digger and Cecilia Oram. Olive worked on her family's cattle property 10km from Myella.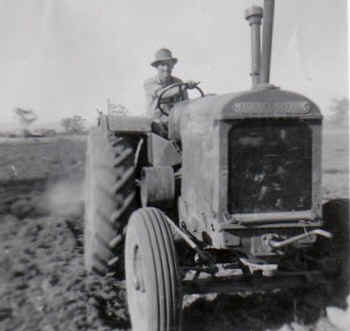 COUSIN STEVE EATHER
This article was in this weeks "Land" newspaper,NSW leading ag.paper., Steve is involved with our sesqui centenary celebrations in Boggabri a week from now. We are going to a dinner next Sat for 460 people at the show ground as well as many other happenings for the occasion, have many visits at the museum for the week, including the morse codians, a group of old telagraph men who used to send all the telegrams by morse code. (Had a competition with the text messengers and beat them easily), sending a fixed message from Sydney to Alice Springs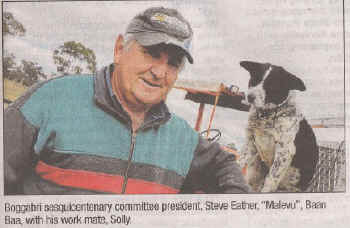 COUSIN IAN FINLAY EATHER (Thomas Jnr line) 21st May1921 – 1 Nov 2012
Extract from Eather Family news letter:-
Ian was the fifth generation of a large Australian pioneering family who arrived with the Second Fleet in June 1790. In the early years of the settlement the Eathers spread out across the Blue Mountains, west of Bathurst and Orange, north to the Hunter River and thence to the north-west of New South Wales.
Ian was born at "Henriendi", Boggabri in 1921. After the premature death of his mother, Harriet, in 1924. Ian, then aged three years was brought up by his father Reginald, the manager of Eather Brothers of "Henriendi", from Boggabri to Bulga. There he was to be cared for by his Uncle Alex and Auntie Millie. The provided Ian with a loving and instructive upbringing that earned his lifelong gratitude.
Ian at age 91 years began a series of interviews with Ian Dunlop – a small part follows:-
" My family had a longstanding friendship with the Alexander family who lived nearby at "Mount Leonard" until 1927 whey then purchased "Tocal" at Paterson. When my father's brothers Ivo (Peters father) and Jack enlisted in the first AIF and the Alexander's presented them each with a watch. Uncle Jack and Uncle Ivo went overseas with their unit and served together with the first AIF in France. Each took overseas the watch given to them by the Alexander's. The watches were worn by my uncles when they served at Pozieres and Villers-Bretonneux. After his return to Australia and before he died Uncle Jack gave the watch to his brother Alex the watch he had been given by the Alexander's. In turn my uncle Alex gave me that watch and I have given it to my son Rhys."
RICHARD EATHER
These were the days of all bagged handling of wheat, , Harry & I changed to bulk in the late 60s. By delivering to the flour mill we were given sixpence a bushell premium over the price offered for delivery to the local silos. The wheat at the local silos was cut into bulk and we were able to reuse the bags, until the silos filled then all extra had to be bagged and delivered to stacks. All bags had to be filled, rammed and stiched with 12 stiches per bag to prevent spilling 9solt bags weakened the stack. (Before elevators the men carried the bags up the stack on their shoulders, 3 bushells 180 pounds)
From Dick (Richard Eather)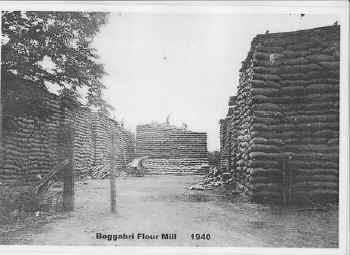 OLIVE'S FAMILY ANCESTORS
Olive's Great Grand parents Joseph and Elizabeth Oram married on 14th June 1865 in London and travelled to Australia on the "Bays Water" three months later. Joseph worked for his passage as a baker on the ship and paid for his wife's ticket. They started a family in Central Queensland Joseph bought and worked a butcher shop in Blackwater (2hrs west of Myella). Joseph's son Louis had 12 children. Louis and his son Lewis (Olive's father) bought a property at Baralaba for 90 pounds in August 1930. This farm is still in the family. It was given to Olive's brother Bill. Out of the 8 children 7 of them have been cattle farmers at one stage. Currently 4 of them are still farmers. Olive is the forth child on the horse. She had to ride her horse 6.5miles to school for a few years until there was a school bus.
Oram Family History (note: this file is quite large, 9mb, so it may take some time to open)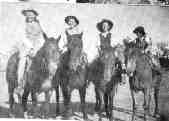 The following info was in a book about Baralaba it was published in 1977. Digger and Cecilia were asked to talk about Baralaba and this is what they wrote.
Olive's Great Grandfather – Joseph Charles Oram
Olive's Great Grandfather was buried in the Old Blackwater Cemetery. But when the town pool was under construction they were to remove all the bodies and place in the new cemetery at Blackwater, unfortunately no one seems to have gone and looked at what was supposed to have been put in place in the new cemetery. We have all seen the plaques in the pool grounds.
This is a brief history about my Great Grandfather -
Joseph Charles Oram - Born: 20/01/1843, in High St., Chatman, Kent, England
- Died: 25/08/1918, in Railway St., Blackwater, Queensland, Australia
- Age at death 75
- Cause of death: Heart failure
- Burried: 27/08/1918 Blackwater Cementery
Joseph married Elizabeth Faulkner on the 14th June 1865, in St Philips the Aposal Church, Steprey, London. They sailed to Australia on the "Bayswater" 20thSeptember, 1865. Joesph worked for his passage as a Baker on the ship and paid for his wife's passage. Joseph worked for Queensland Railway in the Clermont area before the family moved to Blackwater where Joseph owned and worked the Butcher Shop. Their family started in Central Queensland with 4 girls and 3 boys
- Eliza - Born 23/05/1867 in Talgai, Queensland, Australia
- Died 03/07/1946 in Rollestone, Queensland, Australia
- Married Louis Charles Dolgner, 18/04/1886 in Rockhampton

- Clara Emma - Born 15/12/1869 in Lilyvale, (old Capella), Queensland, Australia
- Died 04/10/1953 in Brisbane, Queensland, Australia
- Married George Besgrove, 28/03/1888 in Blackwater, Queensland,
Australia
- Louis - Born 16/08/1871 in Copperfield, Queensland, Australia
- Died 26/07/1955 in Baralaba, Queensland, Australia
- Married Martha Sarah Brown, 24/10/1894 in Brisbane Queensland,
Australia
- Walter - Born 27/07/1875
- Died 15/09/1942 in Yeppoon, Queensland, Australia
- Married Monica, 18/11/1908 in Warrinella, south of Rollestone,
Queensland, Australia, an aboriginal woman (because of this
he was disowned by the family)
- John - Born 14/07/1877
- Died 1878 in Rockhampton, Queensland, Australia
- Cause of Death - Redback Spider bite
- Burried SouthRockhampton Cementery
- Elizabeth Ann - Born 16/09/1879 in Burngrove, Queensland, Australia (125 mile camp
near Blackwater)
- Died 16/09/1964 in Springsure, Queensland, Australia
- Burried 18/09/1964 in Rollestone Cementry
- Married George John Eyles, 30/12/1987 in Blackwater (school),
Queensland, Australia
- Lilly Sophia - Born 17/11/1883
- Died 12/12/1904
- Cause of Death - Kidney trouble having first Child
- Married Herbert Albert Fletcher, 23/06/1903 (Herbert died 21/05/1905)
Olive's Mother = CECILIA ORAM (nee Schofield)
When I arrived in Baralaba on the 21st August, 1921 by train about midnight, with my parents, four brother and three sisters we were surprised to see the town as it was, just scrub everywhere. We had to follow wallaby pads to get anywhere. There was a butcher shop, Grocer Store and Andrew Clark's shop was partly built.
There were bag humpies everywhere. The humpies were built of round bush timber, corrugated iron roofs. Bags outside and partions. The bags outside were whitewashed with a mixture of lime and prickly pear juice made by boiling the pear, and to make it whiter a knob of blue was added.
There was no rain-water tank for a while we had to cart the water in two kerosene tins on a little cart the water in two kerosene tins on a little cart. The town tap was near the railway fence and when we shifted further up the line we carted it from Mrs, Davey's and later on from Mrs Danny O'Keefe.
My father worked it eh State mine until about 1924 when he was unable to any longer, owing to his contracting miner's phythisis.
As the mines developed more families came and more humpies and shops were built. Each miner would help the other to build their humpies. It was a community affair, everybody was friendly.
Our parents would take us down to the old crossing to swim and paddle while the family washing was done. There were the Neilsons, Bradfords, Clarks, Brysons and Schofields. Each family had their own clothes lines. It was a height to see all the washing hanging among the trees at the river.
A tent was the only school when I was a pupil. If a boy or a girl pimped to the teacher on another pupil they would be punished by being taken to the town tap and your head was held under the tap and the water turned on. You soon learnt not to pimp any more. I will never forget our breaking-up day with our great feast, novelty races such as three-legged, sack, egg and spoon, wheelbarrow, needle and thread, obstacle and the presentation of book prizes, our fancy dress ball at night. The old part of the present school was brought from Mount Chalmers about 1924. The town and school grew until the Big Flood in 1928, when the State mine was flooded. This meant the end of the town until the middle of 1930 when the Lands Department opened up more land for ballots. This bought new settlers to the district and the P.E.I employed a lot of married man to work on the roads. This was no easy task as it was all pick and shovel, dray and horses. This was the re-development of the town and district.
In t1930 Mr and Mrs Alex Edminstone came to be in charge of the Post Office and it was during their stay as postmaster that the Post Office was shifted to its present site in 1931. Mrs Edminstone was a tailoress and dressmaker. I worked for Mrs Edminstone and helped her with little jobs with her sewing.
Dairying and cotton-growing were the main income until 1940 when dairying stopped. The farmers turned to breeding beef cattle and grain growing and the town flourished until 1969 when the mine was closed once again.
Olive's Father = LEWIS ORAM (Digger)
We arrived in Baralaba in august, 1930 from Duaranga to take up residence on my property at Kalewa. 6½ miles from Baralaba. Dad drove the buckboard and two horses loaded with our goodly possessions and I rode on horseback driving two horses. We crossed the river at the old crossing one afternoon and there were people everywhere in the river and sitting on the banks. As we went through the water we were given a great welcome by the children as they waved and coo-eed. Dairying and cotton growing were our main income . We bought dairy cows from Mr Holland of Gogango for 3.1.0 pounds and drove them back. We had trouble when we came to Kokotungo where the prickly pear was so thick that we had trouble driving the cows, as one of us had to go ahead to make way for them.
We had many ups and downs, with low prices for our butterfat and droughts, also the property was heavily infected with prickly pear but the cactoblastis soon took over and the prickly pear disappeared.
Later in the year I met Cecilia Schofield and on the 6thAugust, 1931 we were married in Baralaba in Pegg's hall (named after the owner Mr Pegg), by the Roman Catholic Priest, Father Rooney, P.P.
We have lived on the property and reared a family of 8 children, all married, until August, 1976, when we decided to retire and live in our new home in Stopford Street Baralaba.
A NEWS PAPER ARTICLE ABOUT PETER'S FIRST SCHOOL
The one teacher school called Glenpatrick School in NSW was the first school Peter Eather attended.
The top picture (picture to come) was reproduced in the North West and Hunter Valley Magazine during 1979 and stirred a few memories. Since it has great relevance to the Boggabri district, it is being given another run with a few irrelevant details thrown in which did not come to light two years ago. The picture was taken in the winter of 1943 by a photographer unknown. Those pictured were the complete school rollcall at Glenpatrick some 40km from Boggabri.
Back row, left to right: An unnamed religious instructor (who was he can a reader enlighten us?) Ross Dobden of Thornfield; David Austin of Therribri; Kitty Eather of Harparary; Tommy McNamara; Des Hobden; and school master Trevor James who, we recall was a yoga fanatic even in those days. Where are you now Trevor?
Front row: Peter Eather, Pat Smith, Verna Giles. Of Therribri; Ronnie McNamara; Harry Eather and Wanda Lance.
Trevor James was succeeded the following year in Term III by a dragon in the elderly Mrs Colan notable for here pronunciation of the word "column" as "col-yum" and for her unbridled praise of her nephew war correspondent Joel Brennan. She lasted a term an then the notable Len Hindmarsh (all 6ft 7in of him) took over for some years. Ronnie and Tommy McNamara? They were memorable for the fact that every day for their time at Glenpatrick they brought egg sandwiches for lunch. They were successful for a few days swapping sandwiches with new chums, but for obvious reasons, the dodge didn't work long.
The lower picture (picture to come) is of Glenpatrick School as it is today.
THE OLD BUSH SCHOOL by Mrs Mabel Marion (nee Grant)
During a visit to Gunnedah some short time ago I was very interested in the article about the Glenpatrick School. I was one of the first pupils to attend this school. Mr J T McMahon was the owner of Glenpatrick and two acres of his land was allocated to build the school.
Parents brought the necessary building materials from Narrabri in horse teams. The school was ready for occupation early in 1911 and the following ten pupils attended in order of age – Lili Nobel, George Hobden, Louisa Grant, Robert Nobel, James McMahon, Lenora McMahon, John McMahon, Lenore Smith, Mabel Grant, Nell Smith.
The first teacher was J Sloan, then followed E Chapman, C McLennan, J Crittenden, W Bouverett and C Niland. By this time I had married and left the district and I have not been back there since. The first inspector was Mr H H Clements then Mr W F Clements. I hope this letter may be interest to many readers.
VILLERS – BRETONNEUX the battle field where Peter's Father Ivo was injured
This article was in the blue's country magazine 2007. An Austrialian Journalist wrote this article while visiting the historical site 90yrs after the battle
Honourable foreigners. Versatile and adaptable young men who were also skilled horsemen – many from the bush – left their homeland to fight on far-flung shores. Col Jackson reports on this year's remembrance ceremonies.
It's the meanest-looking boxing kangaroo I've ever seen, but you won't find it in Australia – it's on the outskirt of Villers-Bretonneux. A small village north-west of Paris not far from the Australian War Memorial commemorating 120 000 Australian lives lost on the Western Front in World War I.
It was Sunday, April 27. I was on my way to Bordeaux to join with Queensland Bazadais breeders on a tour of the horme district of the breed. But first there was a place I needed to visit.
The names of battle sites on the Western Front appear on the Regimental Colours of my former battalion. And it has been a life-long ambition to visit this small town. This was my opportunity.
Two days previous, on the 90th anniversary of the Battle of Villers-Bretonneux a strong contingent of Australians took part in the first Anzac Day service to be held in the town.
It marked a significant event in the village's history when, on April 24, 1918, Australian Imperial Force soldiers attacked German forces in the town. In fierce fighting the Qustralians retook the towm, ending the German advance o the Somme.
It was also the site of the first tank battle between opposing forces.
The train trip from Paris to Amiens took just over an hour, then another 12-minute railcar trip to Villers-Bretonneux. No sooner had I alighted from the train at Amiens, I was confronted by a sign: "Anzac 2008".
I had an hour to wait for my next let, so I ventured into the town. There was a memorial service being helt to commemorate "Auz Picards Martyrs de la Resistance, 1940-45".
Australian ex-servicemen and war widows were among the crowd of spectators, but what struck me the most were the elderly French proudly standing beside the cenotaph. They would have been young men and women during the War, yet they stood in defiance of their oppressors.
Just a stone's throw from my Paris hotel and the Champs-Elysees is a plaque on a building signifying where these resistance fighters were taken for interrogation.
Sunday in Villers-Bretonneux is apparently a day of rest for the townsfolk, but visitors to the town on that day knew what they wanted to see. There were various languages, but one common interest.
Wreaths laid by representatives from countries as far apart as Canads, Ausralia and New Zealand two days earlier surrounded a cenotaph in this beautiful little village.
There's the Victoria School, which doubles as the Musee Franco Australien (Franco Australian Museum). The plaque on the front says it all:
"This school building is the gift of the school children of Victoria, Australia, to the children of Villers-Bretonneux, as a proof of their love and goodwill towards France."
"Twelve hundred Australian soldiers, the fathers and brothers of these children, gave their lived in the heroic recapture of this town from the invader on 24th April 1918, and are buried near this spot.
"May the membory of great sacrifices in a common cause keep France and Australia together forever in bonds of friendship and mutual esteem."
As I stood reading this sign, I was joined by a young man, and the hat was a give-away – he was a visitor from Sough Australia, and was touring the former battle sites.
I continued throught the town, The local pharmacy was decorated with Australian memorabilia, then there's Restaurant le Kangourou next door to the pub, but I continued on towards the edge of town and the Australian War Memorial.
A banner straddling the highway on the edge of town reads: "reencounters Australianness – Remember the Australian spirit."
Below it is a sign featuring the fierce-looking boxing kangaroo and the dates, April 25 – 28. Another sign acknowledges the village's links with Robinvale in Victoria.
Across the fields is the War Memorial, an area filled with trees and some 770 graves of Australian soldiers. It is so peaceful now; it is so hard to believe the inhumanity that raged some 90 years before.
On my way back into town, a young man on a bicycle rides down the road and steers towards me. "Do you have any sunscreen?" he asks. He's from Kalgoorlie and is riding the 16km back along the river Amiens.
"Oh to be young again and enjoy the freedom of riding through a former battlefield that so many men died for," I think to myself. It is a wonderfully sunny dayt – just like a Brisbane winter.
There was only one train back to Amiens that afternoon s, so I had plenty of time to take in the beauty and peace of this visually pretty village with this flowers and tree-lined parks.
I walked into the pub and sat down. The locals looked and nodded their heads towards me and smiled. I must have been the hat.
Back at the railway station, I look at the ancient structure of the building and try to envisage Australian troops and those of other nationalities who came to defend a nations right to be free.
I think of what Australia would be like today if so many of our young men had not died in two world wars and other conflicts.
Many of these young men came from the bush. They would have helped build and populate the land away from the cities and provide the necessities of life for a strong younger Australia.
But they went to far off lands and proved that Australians will stand for what they believe in.
And now when Australians visit small villages across the world like Villers-Bretonneux, they are welcomed with open arms.
The respect and freedoms we have today are the legacy of the gallant deeds of those who have gone before us.
Following the success of this year's Anzac Day service at Villers-Bretonneux., it will be repeated in future years.
Next year's event was booked-out within weeks on the announcement. Villers-Bretonneux is the new Gallopoli. It's well worth a visit.
PETER'S FAMILY FARM
The first Eather came to NSW in 1790 and Peter is a 7th generation descendent. Peter's eldest Brother Richard (Dick) lived most of his 80 years at Baan Baa on the portion of land which was first settled by Eathers in 1840. The block has been in Eather possession since 1910. They have raised sheep and cattle and farmed, growing lucerne for hay, wheat, sorghum and other crops. Peter moved from this farm to Queensland when he was 21 years old.
HOW THE NAME EATHER BEGAN
The name Eather first appeared in Australia 1790. A man called Thomas Heather was sent to Australia as a convict. The name changed from Heather to Eather gradually. A variety of spelling errors appeared in the records of baptisms, marriages and death certificates; but there was a low level of literacy. Thomas Heather's name was first printed as Thomas Eather when he received his first land grant. Heather was spelt when he applied for his second land grant and Thomas Either was written on his will. Soon after 1827 the name was frequently spelt 'Ether' or 'Eather'.
THOMAS HEATHER, OUR CONVICT ANCESTOR
Our ancestors Robert Heather (1710-1780) and his wife, Elizabeth were living in Bexley in Kent when their youngest son Thomas Heather (1764-1827) was born. Thomas had no formal schooling and went through life unable to sign his own name. At the age of 23 years Thomas Heather was working as a labourer at Chislehurst when he was arrested and charged for robbery. Found guilty, he was sentenced to death, but this was commuted to a 14yr sentence. After a year in prison Thomas was moved to the hulks and on 19 January 1790 he sailed from England with the second fleet on the "Neptune". The ship arrived at Sydney Cove on 28 June 1790.
The conditions under which the Second Fleet sailed were different from those of the First Fleet. Of the 520 convicts that embarked the Neptune 31% died. Merchants were contracted per convict,
the more deaths amongst the convicts en route, meant more surplus food left for
sale at the ports visited. The following year Elizabeth Lee (1773-1860), an 18 year old Lancashire lass arrived on the "Mary Ann". She had worked in England as either a domestic servant or a shop assistant and pleaded guilty for stealing from her employer a grey cloak valued at six pence. Elizabeth was sentenced to "be sent and transported to some part beyond the seas for a space of 7 years".
The ship, 'Mary Ann' left England on 16 February 1791 and arrived at Port Jackson 9 July 1791. It was the fastest voyage out by a convict ship up to that date, only 9 convicts dying on the way.
Thomas and Elizabeth Heather married within a few months of her arrival in the colony and they had 8 children. Land was granted to Thomas on 1 June 1797. He still had five years of his sentence to complete, but Elizabeth had recently completed her sentence. Thomas was granted a thirty-acre farm named "Eather Farm" situated at Windsor on the Hawkesbury River in NSW. The conditions of the grant were: that he should live on the land for five years; that the land would be free from all taxes for ten years; and that he was to make improvements and cultivate the land deemed fit for naval purposes. They fulfilled these requirements and, in 1803, they sold the farm for eighty-nine pounds.
In 1802, Thomas was granted his ticket-of-leave; then, in 1820, he sought another grant of land and was granted fifty acres. Thomas was living in Windsor as a store keeper during his last years before he died, aged 63 years. Elizabeth passed away in Richmond at the age of 88 years. All of her children lived to at least eighty years of age. She left 157 descendants.
PETER'S GRANDMOTHER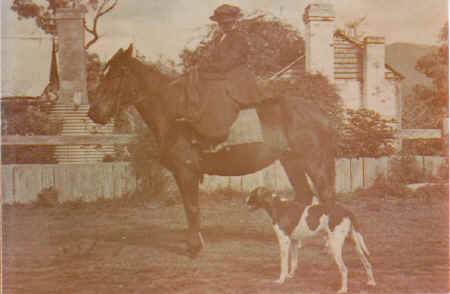 This is Harriet Eather (Peter's Grandmother) She passed away in 1928. She was married to John William Eather 1845-1915 of Bulga they had 10 children 6 of whom did not marry. Ivo Mac (Peter's Father was 6th child in this family Ivo lived from 1883-1952. Ivo married Grace Pankhurst 1899 – 1988.
PETER'S MOTHER
Grace Eather
(Nee Pankhurst)
Grace was born in Brangxton in the hunter valley to Allen and Virginia (Nee Russell) on 30 th September 1899. Allen and Virginia had a small dairy farm at Mitchells flat some 8 or 10 miles east of Singleton and about the same distance from Branxton where Virginia's parents lived. Grace was the third daughter , the others were Jean and Eleanor(Nell), as there were no milking machines in those days all the milking had to be done by hand , so as soon as they were old enough the girls had to do their share of milking, morning and night. Grace related how she as a primary school girl had to milk her 6 to 8 cows before school then again in the afternoon. She was apparently good at handling horses as she related that her pony had to be put into the shafts of a sulky to collect an aunt from the rail in Singleton as the normal horse was lame, grandfather was on tender hook but when Aunty was told she said there "wouldn't be any worry with Gracie's pony". The main worry was when the first motor cars began to appear and the horses couldn't face the noisy vehicles.
Later grandfather moved to William St in Singleton, a two story house which has recently been renovated and looks grand. Grace began piano and elocution classes in Maitland and had to travel by train, practicing her elocution silently got her some strange looks from fellow passengers. She received her cap and gown in music and enjoyed playing most of her life, playing for services at Gracemere retirement home.
Jean married Arthur Eather and they lived on Meerea, Bulga, later moving to "Milgarra" Bunnan and had three boys. Eleanor married Charles McNiven who eventually lived in Drummoyne. Eleanor and Charles with his brother Ron began McNivens Ice Cream a successful business which was eventually sold to Peters.
Grace met Ivo Eather a younger brother of Arthur who had been severely wounded in France at Villiers Brettoneaux with his brother Jack They married in 1925 and moved to Harparary, raising five children, four boys and a girl, Ivo died in 1952 and Grace lived there till Harry married in 1961 when she moved to Queensland first to the property Fairhaven then to Baralaba before retiring to Gracemere.
Grace was renowned for her heavy foot when driving and there are quite a few stories told of her escapades .The family eventually persuaded her to stop driving the 800 odd kilometre journey from Baralaba to Baan Baa as she couldn't seem to stop and had to do the trip in one day, she made her last trip when she was 76.
Grace had to hold the fort many times when we were small when Ivo had spells in Hospital in Sydney, one cold winter day we asked if we could go for a swim in the creek which looked very inviting , she said yes so we went for a whole five seconds.Lucy used to call her Grey and complained one day coming home from school she had no grandmother being most disappointed to find her Grey was her grandmother. She was a favourite with her grandchildren and "Gran" became her name to the wider community eventually passing in her 88th year.
The other night, by the campfire some guests and I (Lyn) enjoyed listening to my father (Peter) performing bush poetry. He was good, really good and I thought to myself, I bet his mother would be proud of him.
Peter's mother Grace, died in 1988 before Peter began reciting poetry. Grace herself had a love of poetry and she holds some wonderful memories for me. We called her Gran and she would often perform for friends and family.
During my childhood she would come to visit every family member for their birthday. I remember my 9th birthday I walked past the toilet and could hear Gran's voice having a deep conversation with herself. Concerned, I ran calling, "Mum, I think Gran's going crazy! She's talking to herself on the toilet!" After some investigating my mother reassured me that Gran was just being Gran. You see she was worried she may loose her marbles or forget her poems, so she would practice whenever she was on the loo!
When I think of Gran my heart is filled with the warmth of memories that always bring a smile to my face. Yep, she was quiet a character and anyone who knew her seem to have a story about how she touched their lives. Then I started wondering, has anyone written down these stories, has anyone recorded the life of Grace Eather (Nee Pankhurst).
Andrea Shepherd. Her father (Harold Henry Eather) is my first cousin. His father, William Henry Eather (Uncle Bill) was the son of William Henry Eather and Mildred Ann Quinn of Biniguy in the Moree area. They are on the Samuel Line.
Harold's mother, Daphne May Robinson, is on your line (Thomas) and descends from Thomas Eather and Sarah McAlpin via their daughter Catherine Eather who married William Henry Taylor/Allen. Catherine was the local nurse in the Narrabri area and the Taylor/Allen family had "Nowley" station.

Daphne M. Robinson's husband William (Uncle Bill) worked for the Department of Railways. He was a station master, signal inspector etc. and had his own railway carriage to travel throughout NSW. In turn his father, also William Henry Eather (Grandfather), was a butcher, who when times were bad, worked on the first railway line to Moree. He also was mainly responsible for the second Biniguy School. He was a wonderful, soft, man and even paid for some of the local children to attend the school. Maybe of interest to Andrea is that the first school at Biniguy (1880's) was built on the land of George Michael Quinn - William Henry Eather's father-in-law.
I don't know if you want me to contact Andrea.... but I would like to.
I do hope that 2009 will be a good year for you and the family and that "Myella" gets enough rain.
Kind Regards,
Mildred Reynolds (nee Eather.)
Fw: William McNiven, born 1852 Barony, Glasgow, Scotland
Please excuse me contacting you out of the blue. I'm researching William McNiven born 1852 Barony, Glasgow , who emigrated to Australia in 1877. William was the brother of my wife's great great grandfather, John McNiven born 1849 Greenock, Renfrewshire , Scotland . From a rather sketchy account of William from a McNiven relative we are told that William's family started an icecream business in Australia . We do not have the name of William's wife but we believe that William had four children, Charles, Ronald, Ellie and Jessie.
I found the account of the ancestry of the Eather family through a Google search. The marriage of Eleanor to Charles McNiven and the starting of the icecream business by Eleanor and Charles with Charles' brother Ronald looks to be a strong indicator that I may have found some of William McNiven's Australian descendants and relatives. I would be most grateful if you could let me know if I'm on the right track or if I'm following a false trail.
If I'm on the right trail, I would be very happy to let you have the information in my possession on the McNiven family history. We also have a McNiven family bible which records quite a few BMDs. This bible belonged to John McNiven born 1849.
With all good wishes, Don Fox
(Retired science park manager and avid family historian)
David McNiven
My brother Peter Eather at "Myella Farm stay" passed your email to me "Dick Eather" to reply as I have been concerned with family history. I don't at the moment have many dates concerning the McNivens. Charles was a major in the 14-18 war and on coming home married Eleanor Pankhurst.
Eleanor was a daughter of Allen Sneesby Pankhurst and Jane Anne Russell married 24 -07-1890, children were Jeanie May born 15-06-1891, Eleanor born 12-08-1892,Grace born.30-09-1899, Jack Alexander born 06-08-1904
Charles and Eleanor married 05-08-1919 ,had no children, she died 02-06-1923
Jeanie married Arthur Eather 03-12-1923 (elder brother to Ivo)
Grace married Ivo Eather 30-09-1925 (my parents)
Jack married Olga Russell
Charles married Anne...... and they had 4 children Kathy, twins Jean and Margaret and Robert (Bob) who was epilectic and passed away in 1983, the girls all live in Sydney, Kathy being a bit of a recluse in the old family home and I have never had contact with the twins, a cousin Clare Pankhurst is still in touch.
One of the McNivens brought the ice cream recipe back from France and after a big struggle they had a successful business "Mc Nivens Ice Cream" which they sold (possibly early 50's) to Peters
I have a wedding snap of Charlie and Nell and Eleanor as a young girl but not of Charles.
We would love to have any information you have as we have fond memories of Charles and Anne
and specially as young children receiving a big box of sweets from the McNivens for Christmas
Regards Dick Eather.
Email From Sarah Bleksley
Hi there,

Family history is a huge hobby of mine, and I just wanted to tell you that some of the information on your website about the McNiven family has really helped to colour in the rather sketchy portrait I have of my McNiven ancestors! It's really lovely that you have all this on your site, and I was able to back up some of my mother and aunt's vague stories with information from there, as well as expand my family tree sideways with the familes of my ancestors' siblings. So, thanks very much!

Charles McNiven's cousin Annie (daughter of John) was my great-grandmother. Her husband William Young lived from 1883-1950; their only child Margaret Elsie (known as Margot) was my grandma and I remember her well. Her husband John Harris (b.1909) died in 2004 at the ripe old age of 94. I never met him.

In case you wanted up-to-date information for your tree (and I see you have correspondents who might find this useful so feel free to pass this on to any of my relatives you might be in touch with), their descendants are (all living):

Ingrid Harris, b.1936, never married
- one son, Robert William (Rob) b. 1972. Rob isn't married but has 2 children with his partner Samantha Manning. They are: Miranda (Mira) Rose, b.2005, and Patrick (Paddy) b.2008

Margaret Ruth Harris, b.1948
Spouse Richard James Bleksley, b.1950
- three children, Daniel Richard, b.1980; Sarah Margaret (me), b.1982; James Andrew, b.1985.
No grandchildren yet!

If you have any other information about the McNivens' icecream business, I would love to have it!

Best wishes,
Sarah
What a pleasant surprise to get your email on the McNiven link to the Eather family! I'm most grateful that you took the trouble to respond to me. I'm happy to let you have anything I have on the McNivens which might be of interest to you, though I can see that the link to the Eathers is slight.
Please find attached a report on the descendants of David McNiven (1790) who was a farmer at Rowe 4m from Doune in Stirlingshire , Scotland . You will also see where me and my wife Christine fit into the picture. I have a lot of research notes behind the bare statistics of the report but they are probably more interesting to the descendants of William McNiven (1852) who emigrated to Australia . However, I'll pick out a few stories which you may find interesting.
Although David McNiven(1790) was a farmer, 3 of his children found employment in the railway industry which was developing rapidly in Scotland in the early 19th century. John McNiven(1814) was a Locomotive Superintendant, William(1816) was an Engine Fitter and Alexander(1827) was a Locomotive Foreman. Six of their descendants over the next 2 generations were also involved with engineering in various ways.
The children of John McNiven(1814) included William(1852) who emigrated to Australia . William was a Locomotive Engine Fitter before he left Scotland . He travelled to Australia on an assisted passage, arriving on the Dunbar Castle in March 1877. One of William(1852)'s brothers, John McNiven(1849) was a draper. He was also a member of the Plymouth Bretheren, a very strict, fundamentalist sect. We have in our possession the family bible of John(1849) in which he records his tribulations in business and his appeals to his Lord. It is a most poignant document. One of John's sons, William McNiven (1883) was also an engineer but, being a larger than life character who liked a drink, could not stand the restrictions imposed on life by his father and went to sea as soon as he had completed his engineering apprenticeship. William served in the Cavalry in WW1 and his horse, Bess, was shot from under him. He won the Military Medal at the Somme for bravery in rescuing wounded colleagues. So many officers had been killed in the battle that he was made up to 2nd Lieutenant in the field (he had been a Regimental Sergeant Major). He subsequently served in the Tank Corps and at the end of the war was sent for officer training at Hazeley Camp in Twyford, Hampshire. The site of this camp is, by coincidence, about 2m from where I live. It's remarkable that Charles McNiven also fought at the Somme . He was the cousin of William 1883. I wonder if they knew of each other and their respective roles in the war?
I think that my information on the McNivens will probably be of most interest to any surviving descendants of William McNiven(1852) in Australia . Are you able to put me in touch with any Australian McNivens? I would be most grateful if you could help.
Could I ask some questions?
Do you know whom William McNiven(1852) married when he reached Australia ? Do you know where he lived when he first arrived? Where were Charles and Ron McNiven living? Do you know anything about Charles McNiven's war service, such as his regiment? Where was McNiven's Icecream based?
Many thanks for your help, Dick. It's a real pleasure to be able to swap information with you.
With all good wishes
Don Fox
Dear Dick
I thought I should write to you to let you know what I have discovered about the McNivens over the last few days. I had previously not used Australian websites much but I know a bit more about them now!
William McNiven married Harriet Mary Rideout in 1882. The marriage was registered at Murrurundi, NSW. William died in 1936 at Hornsby, NSW and Harriet Mary died in 1942 at Hornsby.

I found 2 historical artefacts made by "Harriet Mary Rideout/NcNiven" in the catalogue of the Powerhouse Museum , Sydney . They are a velvet beaded pincushion and a circular black silk embroidered apron. The date of creation for both is given as about 1880, which corresponds well with the date of marriage of William and Harriet Mary.

The Rideout name is English and highly localised to the County of Dorset .

Harriet Mary Rideout/McNiven's parents were John G Rideout and Elizabeth Sutherland. Elizabeth was born in 1810 in NSW (no further details). I have found no evidence that John G Rideout was born in Australia but neither have I found evidence of a passage from England .

Captain Ronald McNiven was mentioned in despatches on 4 March 1918. He had been a lecturer in Chemistry before the War and was made Divisional Gas Officer in the 2nd Australian Division.

McNivens Ice Cream was sold to Unilever in 1959.
I attach a photo of William McNiven (1883), the cousin of Charles and Ron. William served in the British Army and was awarded the Military Medal for bravery at The Somme. William was a larger than life character who loved to be the life and soul of any party. In the photo, which was taken at Hazeley Camp, Twyford, Hampshire about 1918-1919, William is on the extreme right.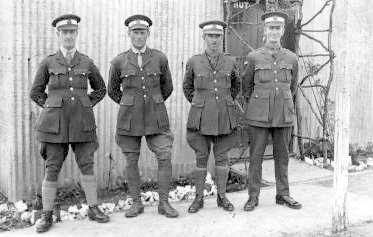 I hope you are successful in tracking down the twins, Jean and Margaret McNiven, as I would love to pass on my information about their relatives.
With all good wishes
Don

Eather Family Newsletter
Published 3 times a years, $8 post paid
Editor: Mark
PO Box A272
Arncliffe NSW 2205
Email: markrm@ozemail.com.au